Dr. Priya Nambisan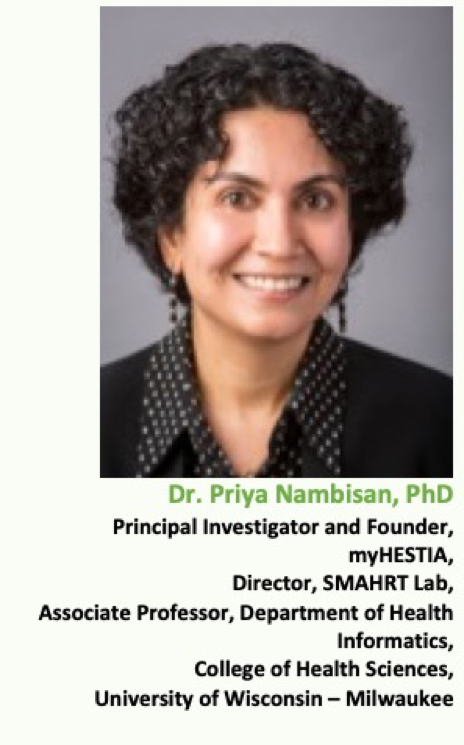 Dr. Priya Nambisan, PhD., has a very multi-disciplinary background – in education, work experience and research. She has an undergrad degree in public health and extension education from India, Masters in Nutrition from Syracuse University (NY), PhD in Communication and Technology from Rensselaer Polytechnic Institute (NY), and a Post Doc in Health informatics from University of Wisconsin-Madison (WI). She has also been a Registered Dietitian. She has lived and worked in three different countries with three different cultures – India, Singapore and the U.S.
After her post-doc, she started her academic career as a tenure-track Assistant Professor at the University at Albany, SUNY, NY in the School of Public Health. She then moved to George Mason University and worked there for two years in their College of Health and Human Sciences as tenure-track Assistant Professor. She joined UW-Milwaukee in 2013 and is currently a full-time tenured Associate professor in the College of Health Sciences.
The myHESTIA project brings together all the work she has done in the past 23 years or so in the broad areas of health, digital technologies and communication. She has worked extensively in the areas of public health, wellness and prevention, personal health information management, consumer/patient experience, patient-provider communication, online communities & social media and digital technologies for self-care. Her main stream of research has been about providing social, emotional and informational support to health consumers and patients using digital platforms and online communities. She has over 53 research publications and over 20 conference presentations. She has also offered several invited talks, organized special sessions at conferences and written book chapters on the topics above. More information about her can be found here: Dr. Priya Nambisan UWM page
myHESTIA is a work of passion for her as it brings together her work, her experiences and most importantly her dedication to community service. She is part of several online disease focused groups and has written articles on the importance of empathy and the need for social and emotional support for patients who are going through difficult times health-wise. She also understands people's need to 'keep it all together' when things start falling apart especially when a new diagnosis comes in and treatments begin.
She loves to cook healthy foods, do some vegetable gardening in summer, and spend time with her twin boys and husband during her free time.